David Skilton
I'm a Senior VFX Artist with experience in Lighting and Design, currently developing Playstation VR games at Sony Interactive Entertainment Europe's first-party London Studio.
I have 9 years of videogame industry experience, 5 years as a VFX Artist, with 3 of those years working on cutting-edge VR experiences. I specialize in scripted particle effects using the PopcornFX effects editor.
In my spare time, I develop mobile games and work to improve my skills in all areas of game development.
I am a conscientious, friendly, open-minded individual with a lifelong love of videogames of all types, driven by a passion for working with talented developers to create awesome gaming experiences.
Portfolio
Since late 2013, London Studio has been working on games for PlayStation VR. The result of this work was the PSVR launch title VR Worlds, released in October 2016.
Here's a showreel of the VFX and Lighting work I performed for VR Worlds. For more information, please see the additional sections below.
All footage was captured directly from a PlayStation 4 Pro, running at 60FPS.
VR Worlds was made using London Studio's proprietary engine, especially developed for high-speed VR applications. All games run at 60 frames per second, reprojected to 120, with up to 1.4x supersampling.
At the end of 2016, I was responsible, alongside Matthew Sheppard, for upgrading aspects of the game's graphics for the newly released PlayStation 4 Pro.
All VFX in the game was authored using Persistent Studio's PopcornFX. This software allowed us to script particle behaviors that would not be possible otherwise. I worked closely with the Persistent team over the past years to aid in the development of their editor and ensure that it fits with our asset pipeline.
VR Worlds:
The Hub
I was tasked with creating the VFX and lighting for the main menu of VR Worlds. This was likely to be the very first experience that players have with PlayStation VR, so I wanted it to be something special.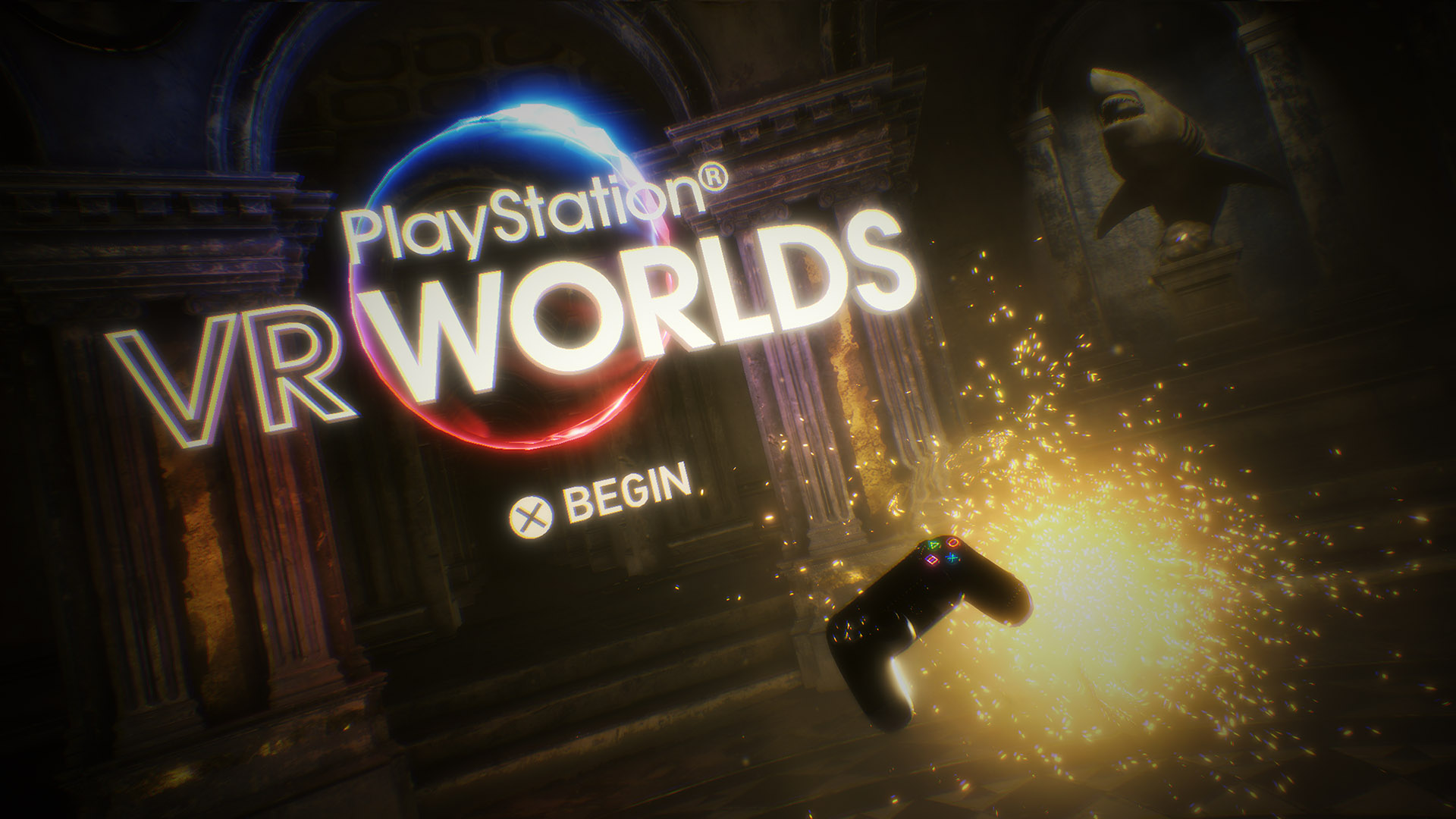 The high concept was of a rotunda in which a 'Guide' orb appears and presents the experiences to the player. I worked closely with the code team to create components to let me smoothly lerp between large numbers of property collections – a theme manager of sorts.
Each menu item that the player selects changes the lighting accordingly to emulate the lighting in the level they have selected. All VFX and lights smoothly fade in and out, and between settings.
I wanted to ensure that every action that a player might attempt results in an expected or interesting reaction, so I worked closely with gameplay programmer PJ Bowron to create a large number of incidental features that players can discover.
The menu theme for Ocean Descent uses an underwater motif.
Atmospheric scattering with caustics project onto the ceiling.
Abstract bubbles and fish float around the player.
If the player puts their head inside the water orb and breathes out, bubbles are emitted from the mouth.
The Dual Shock splashes through the water orb.
Separate lighting and post process setup for each of the game's 8 stages.
Diamond's refraction map contains a scene from the selected stage.
Bullet casings rain from above in slow motion, bouncing off the diamond and player's controller.
Slow-motion bullets ripple through the scene leaving distortion trails.
Six lighting/post process setups for each of the game's sections.
Shadowing mesh particle rock chunks orbit the orb, slicing through the atmospheric scattering.
Chunks move under a complex velocity field comprising of orbit vector, attraction and procedural turbulence.
Rocks can can be wafted away by the player's controller, and blown away by shouting.
Hatchlings crawl over the rock and can be crushed by the player's controller.
Eight colour and VFX combinations for each of the game's opponents. Colours are fed into all emissives.
Fake particle 'spotlight' beams and fireworks fill the air.
The orb reacts under extreme physics, allowing the player to easily smash it away by hitting it with their controller.
Orb bounces around the environment emitting impact VFX until it decides to return.
DangerBall
This futuristic sports game has a vibrant colour palette and exciting visual style. VFX and shaders make up around 70% of what is seen on screen at any time.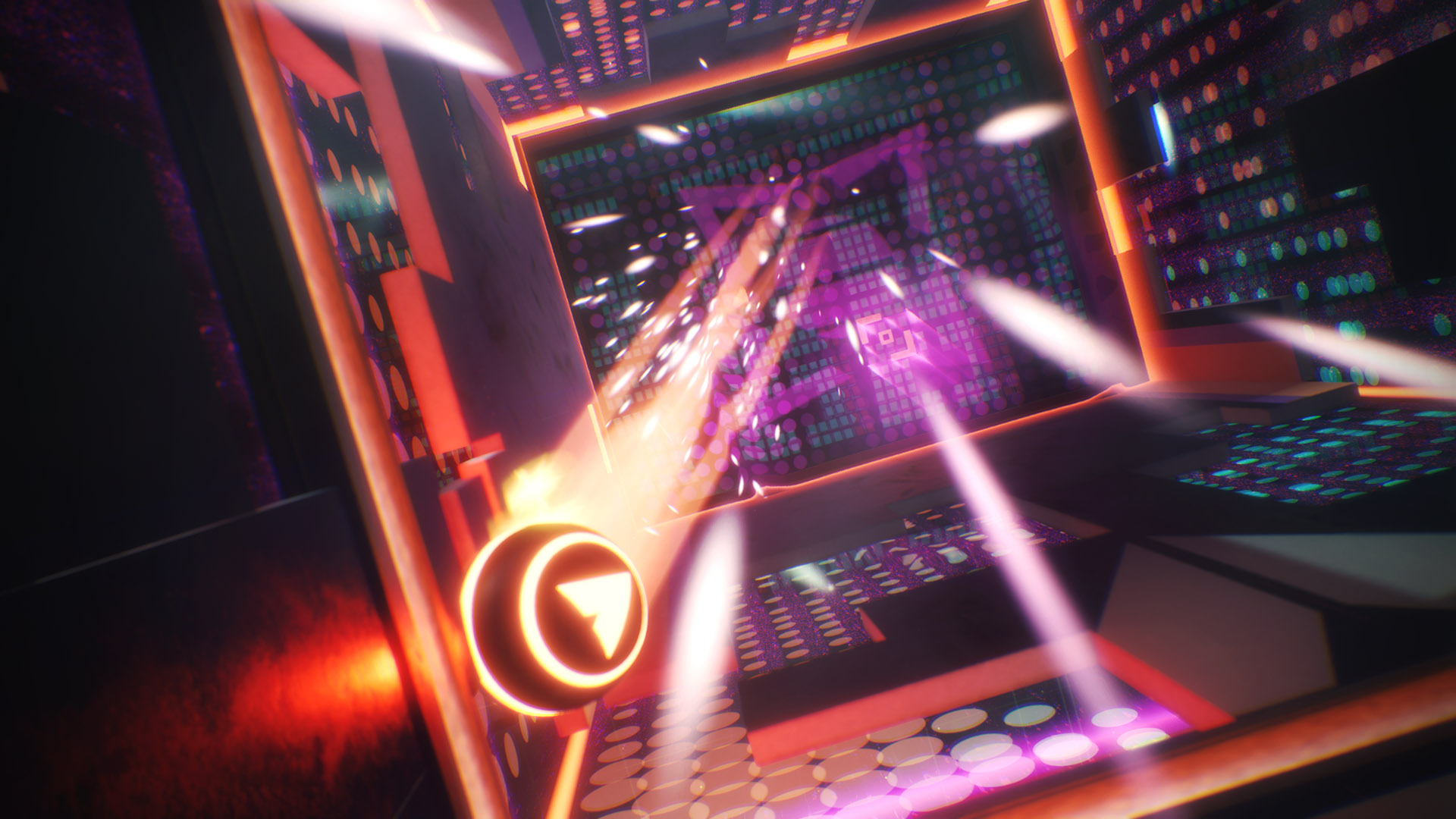 Each opponent has a unique colour scheme, which affects all aspects of the environment – textures, lights, IBL probes, emissive lines, VFX, ball and paddle colours, fireworks and crowd LED shader. Similar to the Hub, property mixers and connection maps were used to smoothly lerp between these colour schemes.
In order to achieve a high dynamic resolution at 60FPS, I set up the scene as efficiently as possible, with very few lights. An IBL probe provides all static lighting within the court – though there are 10 of these, only one is present at a time. The only dynamic lights are within the ball and player paddles. The PlayStation 4 Pro version of the game runs atmospheric scattering and an additional shadowing directional light, emulating the floodlights outside.
Each opponent has a unique characteristic or special move, communicated via behaviour and VFX. The player can often work out how to defeat an opponent from tells in these effects.
Colossus is huge, but its parts become damaged and appear  to 'glitch' as they are hit, eventually disappearing.
Smasher visibly overheats after performing its special move, signalling for the player to counterattack.
Machine's movement limitations can be seen by its wheels overheating and grinding when it hits its extents.
The tiles making up the walls of the court were prototyped using scripted PopcornFX particles. Each tile is a mesh particle with a shader that uses the tile's worldspace coordinate to determine the UVs of a large wall texture.
Each tile unfolds and slots into place, then checks the ball position on each frame by comparing their relative worldspace positions.
When a tile's proximity to the ball is smaller than the ball's radius, that tile dies and and becomes a clone of itself that has physics. After a number of bounces, the tile breaks into smaller chunks.
This system proved to be an effective solution with more flexibility than a full physics mesh, so it was used for the final game.
Ocean Descent
Ocean Descent was one of the first experiences demonstrated on PlayStation VR, back in 2014. It was designed to be an acclimatization experience, so involves no gameplay, but a focus on immersive visuals.
Ocean Descent uses a combination of atmospheric scattering, caustics and screen-space bloom in a graphics engine developed by Joe Milner-Moore and Bruno Ribeiro, alongside VFX that uses procedural turbulence to create a realistic sense of being underwater.
The experience takes place in one continuous environment that has 4 very different looks.
I used an animation sequencer driven by the depth of the current camera (instead of time) to smoothly transition lights and post processing through different colours and intensities. This allowed me to very accurately control the behavior of lights according to what was needed at the time.
The climax of the experience takes place deep underwater with a violent shark attack. The animation was authored in Morpheme, where I was able to mark up events to trigger VFX attached directly to joints on various rigs in the scene.
I wanted to create an experience that looked unlike anything else available in VR at the time. I wanted this space to feel intimate, as if in one's own mind, so the entire scene was constructed in a very small space, just 0.5m in front of the player. I used Depth of Field and a large aperture to enhance this feeling of 'smallness', manually controlling the depth of focus to the exact location of the key objects of interest.
A complex series of animation tracks and connection maps were used to set up the sequences in one single scene that the player returns to during the course of the game.
The scripted particles have a large number of dynamic attributes that allow me to finely control their appearance and behaviour throughout the cutscenes. Game-engine animation tracks drive particle-engine curves that lerp various turbulence, attraction and colour settings.
VR Luge
VR Luge is a fast-paced downhill racing game, part of VR Worlds.
I took on the role of Lighting Artist for this game, creating the final environment's initial lighting and post process setup. This work was later iterated on by Matthew Sheppard.
I spent much of this time working closely with our in-house runtime team to improve the lighting pipeline, specifically the colour grading and IBL probe capture workflows.
I prototyped an alternate night-time lighting setup, which made it into the final game as its own track variant.
A variety of environmental VFX was created to enhance the sense of speed. Air particulate stretches in the player's current velocity vector to emulate 'motion blur'.
EXPERIENCE
Senior VFX Artist, Sony Interactive Entertainment Europe – London Studio
London, UK – 2015-Present
Project: Development of VFX for unannounced VR title.
Gave a presentation at GDC 2017 at the Persistent Studios booth about our usage of PopcornFX for the authoring of VFX for VR Worlds.
Previous project: VFX and lighting enhancements for PlayStation Pro version of 'VR Worlds'.
Increased graphical fidelity across multiple areas of the game for use on improved hardware.
Designed systems with which to control graphics settings between hardware iterations and user tests.
VFX Artist, Sony Computer Entertainment Europe – London Studio
London, UK – 2011-2015
Project: Development of VFX and lighting assets for PlayStation VR (PS4) launch title 'VR Worlds'
Designed and created all environmental/gameplay VFX and lighting within DangerBall and The Hub.
Performed lighting and color grade work for a variety of VR experiences including PlayStation VR's primary demo software, Ocean's Descent and VR Luge. Stood in as Lighting Lead, and improved lighting pipeline with the tools team.
Worked closely with in-house tools team to improve rendering quality, tool usability and feature-set of LS Creator.
Provided extensive game design feedback, offering solutions and new ideas.
Planned VFX and Lighting tasks, aiding production with time and feasibility estimates.
Managed feature development of the PopcornFX tool with Persistent Studios as the primary point-of-contact for our team.
Other accomplishments:
Attended Stockholm EA/Dice Summit 2015 to demonstrate PlayStation VR to first-party studio leads.
Solely developed a number of VR prototype experiences.
Aided the development of an in-house real-time volumetric Light Fields system, creating multiple demos and testbeds.
Stakeholder and co-designer of a Property Mixer tool/component that lerps between predefined property states.
Previous projects: Development of VFX for Book of Spells, Book of Potions (PS3 – Augmented Reality)
Developed a variety of magic and environmental VFX.
Designed pipeline for 'potion splashing' decal system.
Designer, Sony Computer Entertainment Europe – London Studio
London, UK – 2009-2011
Projects: Singstar, DanceStar Party/Everybody Dance, PlayStation Home (PS3)
Designed multiple core features, in particular, creation of the main scoring system, cue-cards interface (including tool implementation and database management) and the game's primary UGC feature
Co-designed various SingStar features such as UGC reporting and peripheral management.
Used in-house VFX tools to design and implement UI feedback systems, leading to a career in VFX.
Documented design using Confluence wiki system.
Other accomplishments:
Co-designed a scoring appraisal feature for comparing streams of PlayStation Move data, from which a successful patent was filed (http://www.google.com/patents/US20130095926).
Trained in Lateral Thinking, 6 Thinking Hats, Effective Communication, Emotional Intelligence.
Design Tester, Sony Computer Entertainment Europe – London Studio
London, UK – 2008-2009
Projects: Singstar (PS2,PS3)
Worked with the design team to ensure that new features maintain a high level of quality, suggesting design changes and reporting bugs using DevTrack.
Checked game content, in particular the gameplay aspects of content mark-up, extensively using the in-house asset management system.
Wrote scripts for the in-house automated testing environment, cooperating with external QA to create a script database.
Contacted external QA team to arrange testing and patch deployment, and created test plans.
Aided the organization of a private beta testing phase for a large patch feature.
Ensured compliance with Sony TRCs.
Standards and Compliance Tester – SEGA Europe Ltd
Chiswick, UK – 2008-2008
Projects: Sonic Unleashed (Wii, DS)
Ensured compliance with Wii guidelines, terminology and messages, using RVT-H/R Reader hardware, Ncheck and SDKcheck tools.
Functionality Tester – SEGA Europe Ltd
Chiswick, UK – 2007-2008
Projects: Football Manager 2008 (360), Beijing 2008 (PS3, 360, PC), SEGA Superstars Tennis (Wii, DS, 360), Viking: Battle For Asgard (PS3, 360), Sega Rally 3 (Arcade), Football Manager Live (PC), The Golden Compass (PC), PictoImage (DS)
Used TestTrack Pro and Mantis to log functionality bugs
Consistently maintained a high quality of reporting while achieving considerably high bug counts.
Performed senior duties such as completion of the Daily Handover and Task Allocation.
SKILLS
Software
PopcornFX

Unity

Unreal Engine 4

Photoshop

Maya

3DS Max

After Effects

Lightroom

Mercurial

LS Creator

Perforce

PS Neighborhood

DevTrack

Hansoft

JIRA

Confluence

TestTrack Pro

Mantis
General
Objective, analytical and detail conscious.

Excellent spelling, grammar and presentation skills.

Great team-player.

Enthusiastic and eager to learn.
EDUCATION
De Montfort University
Leicester, UK – 2004-2007
BSc Media Technology
First class Honours
INTERESTS
PC, console and mobile games

Mobile game development

Photography

Reading (Sci-fi, science)

World travel and cuisine

Building and maintaining PC systems

Film and animation
Contact
Thanks for checking out my work!
Feel free to send me a LinkedIn message or email, and I'll get back to you when I can.